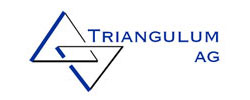 VMS has a long-standing cooperation with Triangulum AG in system development for risk assessment. Today, the jointly developed TRIAS systems are used productively in the following software environments, among others:
Sales software for brokers and agents

Web portals of insurance companies

Telephone risk assessment

Online self-underwriting by end customer
All system solutions are programmed in Java and feature state-of-the-art interface technology and web services. The medical databases inserted in the systems are built by physicians and underwriters and follow the principle of inverse underwriting.
Complete rating systems are available for point of sale underwriting for the following insurance products:
Occupational and disability insurances

TPD (Total and Permanent Disability)

Critical illness insurance

Functional disability insurance "multi-risk insurances

Personal Accident insurance

Supplementary health insurance

Enhanced Annuity Insurance
The product-related systems can be combined in a sales software and can also be used for the consulting process and create individual alternatives for the customer in an evaluation process.
With the Trias maintenance tool it is possible to have risk assessment systems built up independently by experienced underwriters. The existing databases with the decisions can be taken over, partially taken over or completely replaced by own assessment decisions.
Triangulum AG in Frenkendorf, Switzerland, is one of the leading providers of underwriting software for application processes and risk assessment.
Our partner in the network
Triangulum AG, Frenkendorf, Switzerland ist one of the leading developer for application and underwriting software at point of sale.
Triangulum is leader for underwriting software for health insurance in the Swiss market. Almost 50% of the leading health insurer in Switzerland have implemented Trias as underwriting software at point of sale.
More than 20 insurance companies in Europe use Triangulum underwriting software at point of sale an approximately one million applications are processed per year.