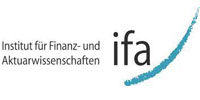 VMS cooperates with the Institute of Finance and Actuarial Science in Ulm in the following areas:
Actuarial specifications for product developments by and with VMS

Evaluation of medical statistics according to actuarial specifications

Data analysis for health insurances for early predictability of high cost cases

Data analysis for early predictability of degree of disability in accident insurance

Joint workshops for biometric insurance products
Publication on the topic (PDF, 342 KB) – in German only
Nicola-Alexander Sittaro, Andreas Beckstette and Andreas Seyboth, Versicherungswirtschaft Special VALUE, issue 2/2014,pp. 70-73 (published under the title: Promising new territory).
Our partner in the network
Ifa is an independent institute for actuarial science. We offer our clients a comprehensive range of consulting services. This includes traditional actuarial tasks in all lines of insurance business, but also modeling and assessment of complex risks as part of modern risk management.
ifa was founded with the objective of supporting the German insurance industry in the efficient application of modern methods of actuarial sciences, financial mathematics, and statistics.
Ifa offers Actuarial Modeling – implementation and results of actuarial models, integration of actuarial models in business processes, Market Consistent Embedded Value (MCV).
Our team consists of about 30 actuaries, mathematicians, and computer scientists whose expertise and enthusiasm for innovation is recognized internationally.